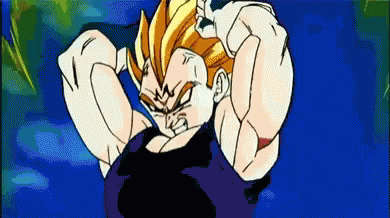 Hey everyone!
The wait is finally over! The Dev Team has finally announced the first OP mini set from our 2017 Kai Champions!!
And boy is it packed with goodies! So much so that I felt like sharing my initial thoughts on each card!
Who's ready!?! I know I am!
Black Style – East Kai Champion
First card in our list is Black Judgment Rush by Josh Duquette.
There is so much going on with this card to discuss.
First, it's considered a Named card. Right away this jumps out to me as something special. There are a select number of decks that really value Named cards, so to have another bonus card for those decks is certainly something to think about.
I'm looking at you Frieza!
Next, we have the attack itself: a solid AT+3 stage damage physical attack at the cost of 1 stage. Nothing too extravagant, but it'll certainly put the work in if it hits.
Then we have its immediate effect of lower any player's anger 1 level and destroying the top 2 cards of your opponent's Life Deck if it's stopped. So now we have an annoying anger hate card that converts into mill if you value your stages.
So far so good I'd say! Slap its 2 Endurance on it and let's call this a day.
Oh, but let's not forget that it also has the HIT effect of staying in play to be used a second time this combat.
I can already tell this card is going to be killer – and the best part, it's not banish after use! The stuff of nightmares in the right beatdown strategy. I'm calling it right now.
Blue Style – North Kai Champion
Next up we have Blue Stylish Pose by Matt Tambor.
While not as flashy as our first card, this one is going to be a staple in every Ally build moving forward!
First, its parenthetical text allows you to banish it as an action from your hand during combat to search your discard pile or Banished Zone for an Ally and play it. So no need to worry about the fact this card is a Setup when being called on – it's got you covered!
It's actual effect while in play allows you to search your Life Deck or discard pile for an Ally and play it. Then raise an Ally in play to its highest power stage. And then if that wasn't enough, you also get to use a critical damage effect!
So not only can you grab whatever Ally you may need and put it or any other ally you have in play to its highest stage, you can also get rid of an opponent's Ally, steal a Dragon Ball or lower their anger to boot!!
And to top it off, it comes with a nice 1 Endurance (as if this card didn't have enough reason to already be in your deck).
Namekian Style – Grand Kai Champion
Third on our list is Namekian Planetary Countdown by Tim Batow.
Our first Limit 1 per deck card on the list, and for good reason!
This Setup comes packed with a phenomenal instant effect, used when you would lose the game by Survival Victory during combat. With this effect, you cannot lose the game until the end of this action. You then shuffle the bottom 5 cards of your discard pile back into your Life Deck.
Let me just restate that – this card stops you from losing the game! Now for those of you that played ScoreZ, this phrase may not pack as much of a punch (as there were several cards in both Z and GT that stopped you from losing). But for those only familiar with Pan&FanZ, this is completely unheard of!
I think it goes without saying that this card also banishes itself after use.
If you thought Namekian was already annoying, you ain't seen nothing yet!
Orange Style – South Kai Champion
Our next card in the cycle is Orange Luxury by Cory Aquilard.
Likely the most sensible of our champion cards, but by no means does that mean it is any less powerful!
This Event allows you to Draw 2 cards, then discard a card from your hand. Then, you may choose a Drill in your hand and place it into play. Finally, this card is Banish after use.
Now, for such little text, this card can turn a completely terrible hand into something truly scary. I think we are all well aware what raw card draw can do when it comes to getting you out of a sticky situation in combat. And while this card comes with the price of discarding something, it also comes with the added bonus of filtering your hand AND potentially adding to your board mid-combat.
Don't let its simplicity fool you; this card is right up Orange's alley!
Red Style – West Kai Champion
Next up we have Red Shining Sword Attack by Oscar Lew.
This card is a bit of a reader, but I certainly like what it has going on!
Like our Black Styled Card, this card is considered to be Named – something again I highly value in cards.
Next up, we see it's an energy attack costing 2 stages and dealing 5 life cards of damage. There have only been a small handful of energy "sword" attacks, so it's interesting to see another get added to the arsenal.
The bulk of the card comes in its immediate effects. First you may raise your anger 1 level. Then, if you have played another "sword" card this turn (not just combat!), your opponent cannot modify or prevent damage from this attack and all damage from the attack is banished!
Finally, this card comes with 1 Endurance and is banished after use.
Phew, that is one hell of a card! At first glance I mistook the immediate effect only to care about combat, but the fact that you could play Aggressive Sword Drill, then enter combat, searching for this card, then use it as an un-modifiable, unpreventable, damage banishing attack really sold me on it!
Saiyan Style – Supreme Kai Champion
Our final champion card comes in with Saiyan Swift Sword Drill by Jordan Syverson.
This card is our other Limit 1 per deck, again for reasons that will become clear momentarily.
First, I want to point out that this is our only Drill in the cycle and that it happens to have 0 Endurance, making it particularly interesting for those Saiyan cards that care about cards with Endurance.
The first part of this card has the constant effect of allowing your MP to pay 1 stage whenever you perform an attack with "sword" in the title to give it +1 stage and +1 life card of damage. A solid way of chipping at your opponent once you know their guard is down.
The bigger part of this card comes with the Earthling traited instant effect, which triggers when you perform a successful Styled or Named attack with "sword" in the title and says: as long as you have 2 or less traits, that attack stays in play to be used a second time this combat.
Now that may come off as being a bit wordy, but basically – Saiyan Trunks players rejoice! You now have a way of further extending combat and putting the pressure on your opponent by making one of your Styled or Named "sword" attacks into a Red Shattering Leap with (likely) more upside!
Cards with Personality
Not only did we get our Champion  cards for the season, but we also happened to be graced by 3 new cards as well! 2 Allies, in the way of Guru and Raditz, and a brand new Nail lvl 1!
I'll try to keep this section a bit shorter, since this was really more to highlight the Championship cards. But each one of these cards is certainly something to think about.
Guru – Great Elder is a nice way to both increase your MP's PUR while he is in play, and to allow you to "unlock your potential" for a combat by jumping up a level if you are a Namekian or Earthling traited MP. You won't be able to win by MPPV that turn, and you'll have to lower your MP 1 level at the end of combat, but you'll hopefully be able to put the hurt in while you can thanks to Guru's aid.
Raditz – Proud I feel can really push the Saiyan Menace archetype into the hands of some of the other villain Saiyans. Being able to both play him as an action during combat to rejuvenate a Styled card or to use his effect to search your Life Deck for a Styled Setup and place it into play means that you have multiple opportunities to find and put on the board Saiyan Menace, so long as it's not banished. And that's only one application for this ally!
Finally, the card I'm incredibly excited to test with is Nail – Warrior. While not winning any strongman contests (spending most of his level in C Bracket), this MP is going to fundamentally change how Nail has been played in the past!
Not only does he keep the mill game from his previous stack, but he now comes equipped with the instant effect of making one of your Styled attacks gain the text "If stopped, use this card's HIT effects" at the cost of 1 power stage and gaining "banish after use."
This level is going to set up a lot of "no win" scenarios for your opponent. And while yes, you'll have to pay the stage when you perform the attack, meaning your opponent could easily not bother blocking; it also means that you get to tell your opponent "no matter what, I'm getting this effect." Something that no other card in the game has been able to do!
Just a pinch for Flavor
With just 9 cards, a whole new world of possibilities has been opened up for the current meta!
I know there are many cards in this set I'm excited to take for a spin. I can't wait to see where these cards make their first splash in the Kai scene this season as well!!
Thanks for checking out today's article. I can't wait to see what everyone else thinks about this mini-set and what it's going to do for the meta!
Until next time, FanZ Warriors!