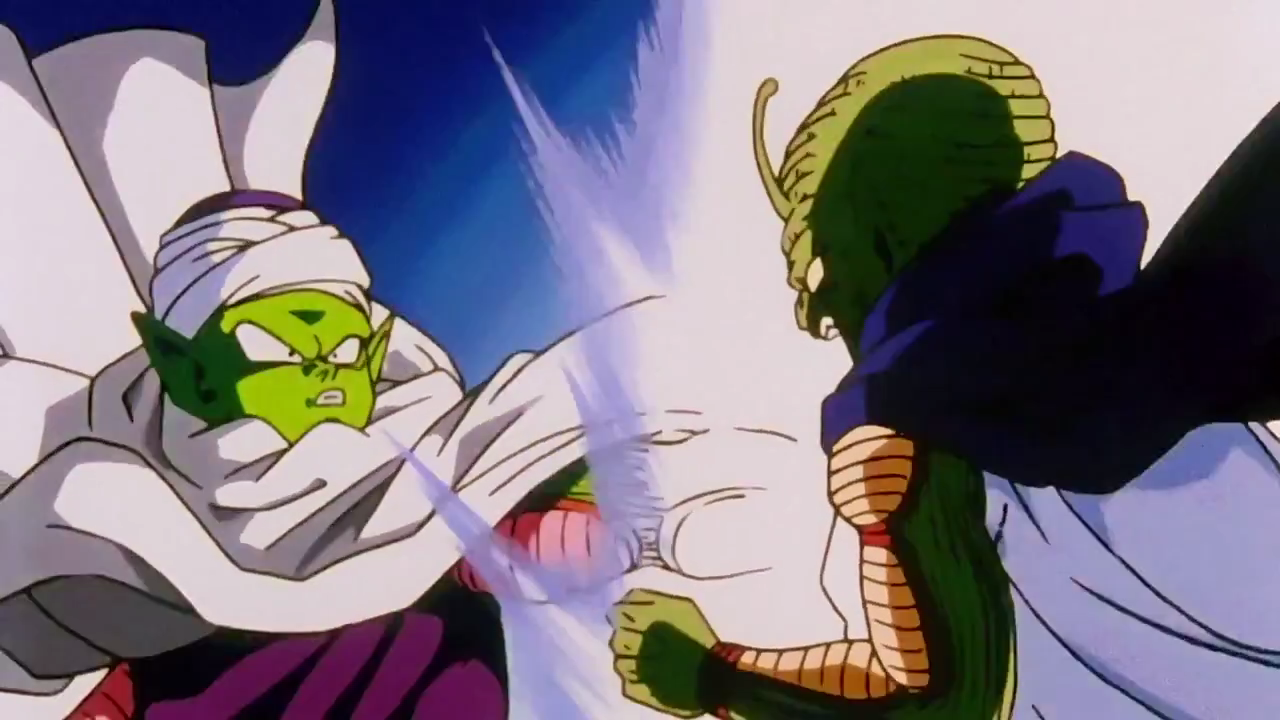 Legends is right around the corner! And with so many great previews coming down the pipeline over the last several days, I wanted to take a moment and take a deeper look at the first MP revealed from this upcoming set, Kami. With so much going on in these 6 cards (4 MP levels and his 2 Named Cards), there are no doubt countless different builds you can create with him. I will be taking my initial thoughts and presenting them here, as well as the first deck list I've come up with trying to take advantage of his unique abilities.
But before we can go into the list, we have to first look at what is going on with Earth's faithful Guardian.
Level 1
Kami, Earth's Guardian is Kami's first level. Right away we are presented with a ton of information to let us know how we want to be building this deck. First, we are shown a constant effect that destroys the top card of your opponent's deck each time an Earth Dragon Ball (yours or your opponent's) enters play. Next, we see that Kami is sporting a free energy attack that deals 3 life cards of damage with the immediate effect to shuffle an Earth Dragon Ball in play back into its owner's Life Deck to search your deck for a Styled Drill and play it (an important wording for cards like Orange Devouring Drill). Finally, should that attack hit, you are rewarded with the ability to raise your anger 1 level and rejuvenate the top card of your discard pile.
So right away we see that Earth Dragon Balls are essential for Kami to thrive; which really comes as no surprise considering he is the creator of Earth's spherical wishing orbs. The next thing to notice about Kami is the fact that Drills are important to him, allowing you access to tutor Styled Drills, something that Styles like Blue or Black have been dying to get their hands on.
Level 2
Kami, Prepared is the next level in his stack. This level feels incredibly powerful. First, we are graced with the parenthetical text that protects our Drills from being discarded whenever we advance to or lower from this level. Next, we have another energy attack, though this time it costs 1 stage and deals 4 life cards of damage. This attack however has the amazing immediate effect to rejuvenate any card in your discard pile, and to capture an Earth Dragon Ball. Plus, should this attack hit, and you control 3 or more Earth Dragon Balls, you may search your Life Deck for a Styled Drill and place it into play.
Kami's parenthetical text has finally given us a Level to use Blue Dominance with without fear of being lowered back down! That is certainly something worth exploring in the weeks to follow by itself.
I really, really like this level. Having access to capture your own Dragon Balls back as an immediate effect seems absolutely insane. This level has hints of Piccolo, Combat Stance, and we all know just how great that level is. While not as versatile as that level, Kami still has a lot of positives here, and I would not at all be surprised if you see a number of decks that look to camp at this level moving forward in the meta.
Level 3
Kami, Fighting Spirit is up next. First we are presented again with another parenthetical. This time it allows us to shuffle a Dragon Ball (Earth or Namek) back into its owner's Life Deck when you advance to this level. It also allows you to search your Banished Zone for an Earth Dragon Ball and place it into play. (While this effect is not straight-forward on whether this occurs also when advancing to this level or whenever you reach this level, I have been told that this will be cleared up by The Dev Team before the official release of the set.) We return to having another constant effect, modifying our opponent's attacks by -3 stages and our energy attacks by +3 life cards of damage as long as we control 3 or more Earth Dragon Balls. Finally, Kami has the POWER to raise your anger 1 level, then you may banish an Earth Dragon Ball you control. If you do, you may search your Banished Zone for a Dragon Ball or Styled Drill and rejuvenate it.
This level has a lot of power behind it. And it's not just with the parenthetical or Constant effects, although these are obviously incredibly powerful. Having the ability to banish your own Dragon Ball to rejuvenate it means that your opponent won't have the chance to steal it from you to gain its effect, and it allows you to gain access to that power again should you have any sort of shuffling effect to fall back on. Not to mention you could just leave the Dragon Ball in your Banished Zone to get your clutch Drills (like Black Absorption Drill, for example) back into your deck to find again later. Very cool level, I must say.
Level 4
Finally we have Kami, Overseer. First, we have yet another parenthetical effect. When we reach this level we are given the chance to either capture an Earth Dragon Ball in play or to place a Dragon Ball from your Banished Zone into play. Next, we return back to having an energy attack costing 1 stage, though this time around it deals an impressive 6 life cards of damage. Not to mention that it has the immediate effect that as long as 4 or more Earth Dragon Balls are in play (under anyone's control) and/or in your Banished Zone, you may search your discard pile for a Styled Drill, play it, and this attack cannot be stopped!
What a way to end an impressive MP stack. Having a powerful attack that deals a healthy amount of damage and grants you the ability to make it unstoppable seems like Kami is pulling out all the stops here to make sure Earth is defended properly!
With 3 different levels with energy attacks, Kami comes off as a great option for any Survival or DBV builds. But what do his Named Cards have to offer us?
Named Card #1
Kami's first Named Card is Kami's Focused Beams. Here we have an energy attack costing 2 stages and dealing – initially – 2 life cards of damage. However, we see that it is accompanied by the immediate effect that doubles all damage modifiers (yours and your opponent's) on this attack, and allows you to search your Life Deck for a Styled Drill and place it into play. Plus, if this attack hits, you may give your opponent control of a non-personality/non-mastery card you control (perhaps a Dragon Ball, for example) in play. If you do, you may choose any card in your discard pile and rejuvenate it. This attack is also Banish After Use.
A very interesting option for Kami. Right away thinking about playing him with Namekian Radiant Mastery and being on his level 3 means that this attack could be dealing upwards of 14 life cards of damage if you happen to have 3 Earth Dragon Balls you own in play and one of them happens to be EDB 1 (something that happens pretty consistently in Radiant, I might add).
On the otherhand, however, should you be playing against Awakening Goku or Orange Hiding Drill, it is very easy for this attack to have its damage changed to 0 or less if you find yourself having no modifiers of your own to pump up the damage. So it's a bit of a double-edged sword.
Not to mention this card can set up interactions with Drills and Dragon Balls that may not end up in your opponent's favor. People have already discussed the interaction of  giving your opponent one of your Dragon Balls and capturing it back thanks to this card, as well as using it to tutor up a detrimental Drill (such as Orange Welcoming Drill) and giving it to your opponent, forcing him to call combat every turn. Certainly this card has a lot going on, and it'll be interesting to see just what people cook up thanks to its power.
Named Card #2
Speaking of double-edged swords, Kami's other Named Card is Kami's Guardian Drill. Right off the bat we see that this is a Drill with 2 Endurance and counts as a Styled card for everyone's effects, meaning you can only have one of them in play under your control at a time. It sports the constant effect that forces each player to destroy the top X cards of their Life Deck at the beginning of each of their turns, where X is equal to the number of Earth Dragon Balls you own that are in play. This card also has the power to choose any card in your discard pile and rejuvenate it, or two cards instead if you control 3 or more Earth Dragon Balls.
This card is a real zinger. Talk about pushing the game from early to end game fast! This card can really crank out the amount of passive "damage" quick if you are able to get several of your Earth Dragon Balls into play. And with the fact that you have your own Dragon Balls and rejuvenation effects to soften the blow against yourself, this really feels like a great win condition for the Guardian of Earth.
So with all this in mind, what do I see myself doing with Kami off the bat?
Initial Deck Concept
MP Levels and Mastery:
1 – Kami, Earth's Guardian
2 – Kami, Prepared
3 – Kami, Fighting Spirit
4 – Kami, Overseer
M – Black Conflict Mastery
Blocks (13):
3x Black Impediment
3x Black Delay
3x Black Protection
3x Black Swipe
1x Time is a Warrior's Tool
Setups (6):
3x Black Power Up
2x Visiting the Past
1x Dragon Radar
Drills (6):
2x Black Smoothness Drill
1x Black Absorption Drill
1x Black Recollection Drill
2x Kami's Guardian Drill
Dragon Balls (7):
1x Earth Dragon Ball 1
1x Earth Dragon Ball 2
1x Earth Dragon Ball 3
1x Earth Dragon Ball 4
1x Earth Dragon Ball 5
1x Earth Dragon Ball 6
1x Earth Dragon Ball 7
Events (4):
2x Black Restoration
2x Confrontation
Energy Attacks (9):
3x Black Annihilation
3x Kami's Focused Beams
3x Optic Blast
Physical Attacks (15):
3x Black Double Team
3x Black Gut Crusher
3x Black Defensive Burst
3x Black Shoulder Charge
3x Sinister Choke
Deck Concept and Goals
This deck to me seems like it could be a real powerhouse if handled correctly. The main goal is to try and get Kami's Guardian Drill and Black Recollection Drill into play and start putting the pressure on your opponent's Life Deck outside of combat.
The nice thing about this list is that while we not only have our own Dragon Balls to soak up cards being destroyed, and Kami's Rejuvenation powers to place cards back into our deck during combat, but we also get to use Black's plethora of self-destroying cards to crank up the power behind each card we destroy at the start of our turn. Black Impediment and Black Shoulder Charge give us the ability to control our opponent's anger passively outside of combat, not to mention the other crit effect options from Shoulder Charge should we need to get rid of a pesky Ally or get one of our Dragon Balls back from our opponent. Black Protection and Black Double Team give us the ability to get additional cards into our hand before drawing for turn. Black Annihilation gives us passive rejuvenation outside of combat, placing itself and the bottom of our discard at the bottom of our Life Deck. And finally, Black Gut Crusher gives us even more Styled Drill tutoring. While these cards were primarily used in Black Perceptive Mastery decks, thanks to its ability to mill ourselves during combat, with multiple chances to mill ourselves at the beginning of our turn, these cards may have found a brand new home with Kami.
And let's not forget how insane Black Absorption Drill feels in this deck. With Kami's Guardian Drill and Black Recollection Drill in play alongside Absorption Drill, we are able to really push the game in our favor without even calling combat. Since Guardian Drill triggers on our opponent's turn, we can set up the top of our deck to have one of our "self-mill" cards we would like to destroy at the start of our turn, or place a defensive card on top to deter our opponent from calling on us. Then with Recollection Drill triggering on our own turn, we are able to stack the top of our deck with a card we'd actually like to draw, since it mills us first and then our opponent. So as long as you trigger your Guardian Drill before your Recollection Drill, you can set yourself up to draw a card of your choice that you want each time it is your turn!
Now, it is also certainly obvious that this can be a very self-harming deck should you choose to have several Dragon Balls in play with these Drills, so it is incredibly important to understand just how much pain you can handle while still trying to pressure your opponent. Like I said earlier, Kami gives us a large amount of rejuvenation potential thanks to his own MP effects and the Guardian Drill itself, but those alone might not save us from the onslaught our opponent could still unleash on us should they decide to call combat on us. So it's best not to pull the trigger too hastily until you feel like you have a decent grip on what your opponent is capable of dishing out.
Perhaps my time as Guardian of Earth has come to an end
So that's it for our first look at Kami and what he has to offer to the game moving forward. Like I said earlier, there is a lot he is capable of, and the deck list presented here is just one of many possibilities that lurk within the card pool to be explored.
With so much still to come, Legends is looking like it will shake up the meta more than we could have possibly anticipated! What do you hope to see in the coming weeks?
As a reminder, don't forget to vote in our TC101 poll found in our Orange Retribution Broly list from this last Tuesday. With the ability to add your own choices this time around, anything is possible to show up next week!
Until next time, FanZ Warriors!