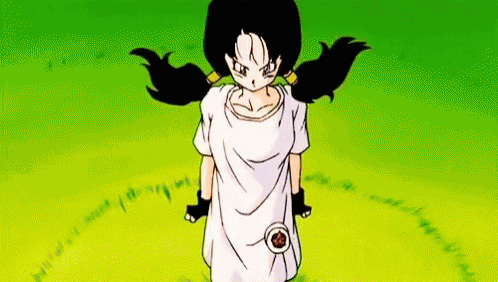 Hey Everyone!
So I know I mentioned that I would be putting out my First Impressions of the new masteries next on Retro, but since I've been invited onto the Brewcast to discuss them, I figured I would hold off writing about them until we have our big discussion and I'm able to get some different perspectives on their power.
However, for those that are curious as to what I think of them off the jump, here is my ranking for them after their reveal: Saiyan Oppressive, Black Mischievous, Red Amplified, Blue Resourceful, Orange Combative, Namekian Enlightened.
But now onto what I really have been looking forward to discuss for quite some time, Videl! For those of you who may not know, I have been working on a Videl stack for fun since way back between sets 2 & 3 of PanZ. I have thought about her role in this arc for probably too long and to finally see her officially spoiled has given me plenty of mixed emotions. I personally am sad to see her lose the "Villains matter" role she once had in the game, as I feel that really became a core mechanic for her, and if given the right support it could have remained her guiding force.
But regardless, I'm very excited by what we have seen for her so let's get right to it!
Level One
Videl – Student is our first level of discussion. As with Krillin, the only trait found on Videl is Earthling, so I won't bother to repeat it for each level. Likewise, she never leaves A Bracket, so again I'll be leaving that out of each level going forward as well.
Videl sports the standard 2 PUR on this level and comes with some interesting abilities. First, her Constant Power has her gain an anger every time you perform an attack with AT. Next she has a Physical Attack dealing AT stages that on HIT either gains you 5 stages or destroys the top card of your opponent's Life Deck.
So right away we see that AT is going to matter for her deck construction. That may seem a bit odd for a personality that never leaves A Bracket, but it will all become clear as we see her upcoming levels. So since she is AT based in the lowest bracket, it's pretty safe to say that you won't be doing much damage early with her. It's good to note though that her built-in attack will always grant her an anger thanks to being AT based, and since her Constant power raises your anger 1 level on top of any other anger that it may already gain you, you likely won't be on her level 1 for long. Cards like Red Double Strike or Black Hug Maneuver are going to put in some major work leveling this little lady in a hurry!
One last thing to point out with Videl that will remain as a mechanic throughout her levels is the ability to make choices. This level for instance lets you choose between gaining stages or destroying the top card of your opponent's Life Deck. Flexibility is going to be a major key to Videl's success and it is definitely worth keeping in mind when assessing her raw strength.
Level Two
Videl's next level is: Videl – Heroic. She's graduated to a 3 PUR and a new set of impressive abilities.
Her Constant power has now changed to locking your AT damage to 3 for all AT-based attacks you perform. Her Power is also another huge ability involving choices. First, you can choose to discard a card to draw a card. Then, you can either choose to lower your opponent's anger 2 levels or to increase the card destruction off the top of your opponent's Life Deck by 1 for the remainder of combat.
Now something that is interesting to point out with this power is that it doesn't specify your effects that destroy cards off the top of their Life Deck. So if they happen to be playing Bardock or SSG Goku for example, they will end up increasing the cards destroyed by their own built-in effects on themselves. I personally really like this design choice as it makes your opponent second guess just how badly they want to mill themselves just to get an advantage. That being said, having the choice to filter your hand on top of either increasing this threat or simply lowering their anger 2 levels is an amazing tool to have at your disposal.
Also, the fact that your AT damage becomes a fixed number is something that is really going to help sky-rocket her into being a beatdown threat out of nowhere. Fixed damage has always been an interesting subject. Often players will gravitate towards higher bracket MPs if they wish to play beatdown in order to go for the biggest numbers possible. And while you may get knocked down to lower brackets, the trade off of high damage early has always seemed to win out for those types of strategies. However, with Videl locking her damage in regardless of power level, she can easily stand toe-to-toe with the likes of Broly or Android 13 and give them a legitimate run for their money when it comes to heavy-hitting attacks. And unlike those beefier opponents, she can take a beating and still put the hurt in.
Level Three
Videl – Battle Ready is next on the list. Again we see that her PUR has gone up by 1, to the standard 4 PUR on level 3. Likewise her constant power has also gone up by 1, making her AT attacks dish out 4 damage instead of 3 this time around.
This level brings us back to having a physical attack as her second power. Like her level 1, this attack deals AT damage, however it comes front-loaded with a devastating secondary effect. You are able to choose between placing a Setup and Drill on top of their owner's Life Deck or to use a critical damage effect and have this attack considered to deal critical damage if it hits.
So 2 pieces of board control or 2 crit effects. If that doesn't immediately catch your attention, I'm really not sure what else could! This level definitely brings the pain the hardest so far and can be a real thorn in the side of any strategy. This will very likely be the level you wish to stick to the most depending on how the meta shakes out, so be prepared to see this on the other side of the table and plan accordingly.
Level Four
Videl's final level is Videl – Battle Hardened. As this is her level 4, she has the standard 5 PUR of most level 4s in the game.
This time around though, Videl gives us not one choice to consider but two! First, her constant effect lets you choose for each attack whether you would like it to have an AT of 5 or for it to gain "HIT: Destroy the top 2 cards of your opponent's Life Deck." Next, she has a physical attack dealing AT+5 damage with the secondary effect of either gaining 10 stages or rejuvenating 3 cards!
Oh boy is this a final level! This level really lets you tune in to the best way of sealing your opponent's fate. The fact that you can push some real raw damage down their throat if they are caught off-guard or force them to decide to waste blocks on little damage with the chance of mill is a thing of beauty honestly. And the fact that you can keep yourself from being beaten down by either going back to full stages or rejuvenating 3 is just fantastic.
This level is going to be the stuff of nightmares for a lot of decks. I'm very willing to call that right now.
A quick shout out to Cheyne Runnells who pointed out to me that this level 4 constant not only effects your AT attacks, but all attacks you perform. Meaning that you can have any non-AT attack gain the "Hit: Destroy 2" effect, like energy attacks for example. Thanks for pointing that out! It just goes to show how impressive this level really is.
Named Card #1
Now as we all know, very few MPs are worth their weight if they aren't accompanied by interesting or useful Named cards. Not to worry however, as Videl has some spice to throw in here as well!
Her first Named card is Videl's Justice Kick. As a physical attack for AT+3 stages and 1 Endurance, this already should seem like a noteworthy card for her arsenal. But don't worry, it gets so much better! First, the secondary effect of allowing you two choose both options from your Named or personality effects is just bonkers! On top of this however is the HIT effect of either raising your anger 1 level or shuffling this attack back into your Life Deck. Or both, since the secondary effect takes place for this attack as well!
This card is amazing. It clearly will end up being the backbone that supports Videl's strategy. The really subtle power of this card however is the fact that you can choose to do both options, but are not required to. So if you find yourself on her Level 3 and are the only player with a Setup or Drill in play and you have used this attack there is no need to worry. You won't be forced to put your own board state on top of your Life Deck unless you want to, as the choice of having both options available is completely up to you.
So good; so very good.
Named Card #2
Videl's second Named card is Videl's Determination. So the first thing to realize about this card is that it is a physical combat card, and not an event. So try to keep in mind that there is no fear of this effect being sphere'd as we go over it.
This card is played as an instant effect once you have used a successful physical attack,  and like all Videl cards, comes with a choice. You may choose to have your opponent skip their next action this combat or you may banish the top 7 cards of their discard pile. Regardless which you choose, you'll also draw a card. This card is also Banish after use and has 3 Endurance.
So. For those that played the old ScoreZ, you might remember a card called Combo. Essentially, this card is Combo with the upside of 3 Endurance, not being forced to attack or pass as your next action, and banishing 7 cards if you happen to have Justice Kick'd before using it.
Now my first impression of this card was that I wasn't sure just how useful this would be in Videl's arsenal. However, having remembered that Defiant Challenge is indeed a card, and the fact that this card is good in hand or in your Life Deck, I think I'm pretty sold on it.
What Styles/Masteries Are Good For Her?
Phew.
So with all that said and done, what Styles are going to help support her, and what Masteries within those styles?
Well I know a lot of the community has immediately flocked to Red Ruthless as being her mastery of choice. And they likely are not wrong. For me, the big factor is figuring out what version of her stack you want to build around. Either the more controlling, chip damage version that is supported by her early levels or the hard hitting, resilient potential that her later stack provides. Knowing this is going to be a key to playing her well. Likewise, having tools to switch one way or the other can help completely blindside your opponent once they think they have figured your gameplan out.
Since we are still missing a major portion of this new set, it's hard to say for certain what is best for her at the moment. But while we wait for the full set to drop, here are a few of my recommendations to think about when brewing up early Videl lists.
Black Mischievous Mastery
Black Perceptive Mastery
Blue Resourceful Mastery
Orange Retribution Mastery
Orange Adept Mastery
Red Ruthless Mastery
School's Out
Thanks for checking out my first thoughts with Videl. I know I personally will be experimenting with many different deck strategies involving her in the near future. So if you are interested in seeing any of those, keep your eye on the blog.
And again, stay tuned to Retro if you are interested in hearing my thoughts on the new Masteries with the Brewcast crew coming up soon. I'll have a more detailed "First Impression" article up some time after the cast if  you want to hear more of my personal thoughts on them.
Until next time, FanZ Warriors!